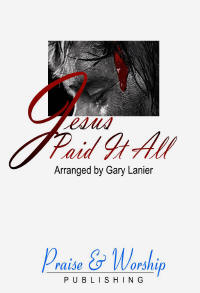 JESUS PAID IT ALL
Contemporary Arrangement by Gary Lanier
MUSIC STYLE: Contemporary
TEXT: Salvation; Forgiveness
KEY: C
Exciting & joyful is the tone of this new contemporary arrangement of
this classic hymn, with a timeless message... Jesus paid it all!

LISTEN
Choral Orchestra Track with Simulated Choral Voices
CHORAL ARRANGEMENT (STREAMING AUDIO)
CHORAL ARRANGEMENT (FREE MP3)

REVIEW
SHEET MUSIC
AVAILABLE PRODUCTS

CHORAL

RESOURCE

PRODUCTS

STANDARD OCTAVO $1.75 ea. BUY

OCTAVO 10 PAK Money Saver! $15.95 per Pak BUY

CHORAL

CD ACCOMPANIMENT TRACK $19.95 BUY

TO ORDER DOWNLOADABLE CHORAL MUSIC
eMusic For Worship is our companion publisher,
making available choral music in downloadable eMusic format.
Click the link below to order Downloadable Choral Music for: