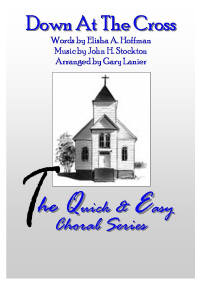 DOWN AT THE CROSS | Arranged by Gary Lanier
MUSIC STYLE: Gospel
TEXT: Crucifixion; Salvation
KEY: G
Enjoy this classic gospel style hymn, arranged in a unique way that
makes small choirs sound big, and big choirs sound bigger!

LISTEN
Trumpets play Soprano & Alto parts
Trombones play the Tenor & Bass parts
CHORAL ARRANGEMENT (STREAMING AUDIO)
CHORAL ARRANGEMENT (FREE MP3)

REVIEW
SHEET MUSIC
AVAILABLE PRODUCTS

CHORAL
RESOURCE
PRODUCTS
STANDARD OCTAVO $1.60 ea. BUY
OCTAVO 10 PAK Money Saver! $14.95 per Pak BUY

Downloadable Choral Music
Money Saver! $19.95 BUY
Music Masters for Vocal/Accompaniment Score, Choral Parts
& Unlimited Copy License. Print on 8 1/2 x 11 paper.

TLC eMusic is your
INSTANT ONLINE MUSIC RESOURCE!
IMMEDIATE DOWNLOAD, after purchase.