Click the links below to review Choral Collections!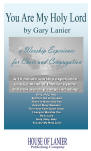 A WORSHIP MEDLEY
Arranged by Gary Lanier
A 16 minute "non-stop" worship service
for choir and congregation using a blend
of hymns and choruses.
---
NEW MUSICAL!
Created by Gary & Valleta Lanier
Celebrate the Living Lord!
---

WORSHIP MUSICAL
Created by Gary Lanier, Valleta Lanier
& Robert Perritt
Experience the joy of worshipping together!
---

6 EASY HYMN ARRANGEMENTS!
Arranged by Gary Lanier
Excellent Senior Adult Collection!
---

5 GREAT SONGS!
Compiled by Gary Lanier
Includes gospel, traditional and contemporary styles,
all in one collection!
MONEY SAVER... Look for the 10 PAK!
Available for EVERY collection!
---